Family service
Family friendly department
The physics department supports the reconciliation of family and working life by supplying its employees with a mobile KidsBox for short-term child care. Also, check other university offers for familiy support .
KidsBox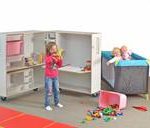 The KidsBox was designed for children ranging from toddlers to elementary school students. Reservations for the KidsBox can be made through FAU-exchange-calendar "Physik Kidsbox"  (simply enter the date and time in your own exchange-calendar and invite the "Physik KidsBox"). If you don't use the FAU-exchange-calendar, send a request for reservation of the KidsBox to physik-geschaeftsstelle@fau.de. Please, also see the guidelines for the KidsBox.
The KidsBox and the key can be picked up at the secretary's office during regular opening hours.
Office hours
:
Each week Mo, Tu, Th, 7:30 - 11:30, Room 00.136,
KidsBox calendar
Booked times are marked "busy".